spearhead.cloud
We believe there is a simple and better way to getting things done in the cloud.
IMPECCABLE SERVICES. INNOVATIVE TECHNOLOGIES.
spearhead.cloud is a project of Spearhead Systems, a company founded in 2011 in Bucharest, Romania. We provide cloud computing services that are easy-to-use and get out of the way, allowing you to focus on your business. spearhead.cloud was built based on experience in designing and operating complex IT infrastructures utilising industry best practices for some of the most prestigious companies around.

CLOUD COMPUTING
Spearhead is not just another cloud, we deliver a completely managed service for the majority of our customers, often times as an extension of their own IT capabilities. Spearhead can offer the necessary compute, storage and network requirements but also architecture and application design. This in turn means we can help you from the very start of a nascent idea or somewhere down the road when that idea is ready to be prototyped, tested or dynamically scaled in production. In short, we are full service IT provider that operates a public cloud as a means to more easily deliver technical support services for our global customer base.

PROFESSIONAL SERVICES
At our core we are an IT services company with over 17 years experience on the IT market. Our mission is to help people and business get things done using modern technology. To this end, we work with market leaders in technology and open source communities to find and maintain a balance between hype and reality. Our methodology is based on a scientific approach which includes comprehensive IT monitoring and identifying the right tools. We separate the hype from reality when it comes to technology and provide a fine selection of technologies and services catered to specific requirements. As a result, we decided to deliver a stable, public platform for you to build upon.

Best of breed technologies
spearhead.cloud architecture
No other cloud provides so much choice and flexibility. You can do more with less with spearhead.cloud due to our high performance architecture.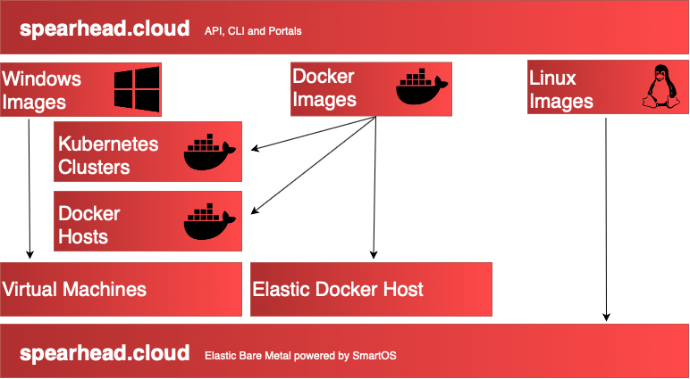 We're looking for colleagues
We're looking for sales, marketing, systems administrations, developers and more.